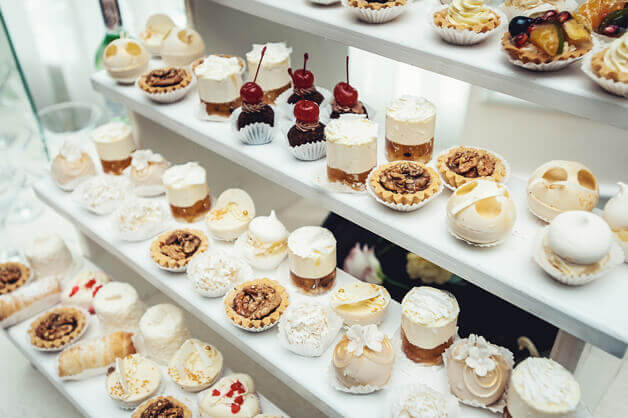 There are two types of cholesterol: low-density lipoprotein (LDL), which can form plaque buildup in the arteries and can cause atherosclerosis, or hardening of the arteries; and high-density lipoprotein (HDL), which helps to protect the heart and arteries by facilitating healthy blood flow. HDL is the good cholesterol, and LDL is the bad cholesterol.
These lipoproteins are found in our blood plasma, which is the liquid part of the blood. Plasma helps the red blood cells, white blood cells, platelets, and other healthy materials in the blood to flow through our circulatory system and feed the body's cells with nutrition and oxygen.
However, excessive amounts of LDL cholesterol are dangerous and unhealthy. High levels of LDL cause fatty deposits to form inside of blood vessels, causing arteries to narrow. As the vessels narrow, it becomes difficult for the blood to flow properly, and this can cause severe health problems such as a heart attack or stroke.
So, which foods should you avoid or minimize in your diet in order to keep your LDL levels under control? Let's take a look at the foods and ingredients that can foster high cholesterol, and who can help you keep your heart healthy for a lifetime.
What Foods Should I Avoid to Control Cholesterol?
To help keep your LDL cholesterol levels in check, keep the following foods and ingredients to a minimum in your diet:
Sugary Foods and Desserts
The fruit has a lot of natural sugar, and this is the good sugar – but cakes, pies, cookies, and high-sugar candies can contribute to high levels of LDL cholesterol. Lowering your sugar intake will decrease the level of cholesterol in your bloodstream.
Read the food labels and search for sugar and sugar substitutes. Dextrose, fructose, corn syrup, sucrose, maltose, and glucose are all types of added sugar. If any of these are at or near the beginning of the ingredients list on the food label, then the food has high sugar content. If you do eat this food, keep it to a happy medium.
High-Salt Foods 
Consuming too many salty snacks and other high-salt foods can contribute to high cholesterol levels. Most types of potato chips, corn chips, ham, and processed meats are high in salt, so keep your intake of these foods to a minimum.
There is no need to avoid them completely unless you cannot control yourself, and isn't it better to have some than none at all? Give yourself a treat every day, and you won't feel deprived.
Fatty Red Meat
When buying or ordering red meats, avoid fatty choices like ribs, and cut the fat off of steak before you eat it. Limit the number of times per week that you eat red meat, and also control the portion size. Alternate your meats with poultry and fish on a regular basis.
Fried Foods
When food is fried, it develops a very high content of saturated fat. This can include fried chicken, fried steak, French fries, and cheese sticks.
If you must eat fried food because there are no other options, divide it in half and save the uneaten portion for leftovers later. It is better to eat less of a fried food than to give up and eat the whole thing.
Concierge Doctor and
If you are overweight, have had heart palpitations, or would just like to start keeping yourself healthy, see an experienced doctor who can help you stay in control of your health. Dr. Robert Lending not only operates a concierge medical practice, but he is also a clinical lipidologist who sees patients who have cardiovascular disease, high cholesterol, and diabetes.
If you have any questions or would like to schedule a consultation with Dr. Lending, contact our friendly team today by calling us at (520) 795-4291 or by filling out our online appointment request form now. We look forward to being your healthcare partner.